Products and Services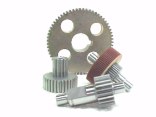 Our blanking capabilities are from .250 up to 1.00" diameter and from 1" to 7.500" in length.

In our gear cutting department, we cut gears from .375 to 6.00" diameter and shafts from .186" to .750" diameter and our diametral pitch range is 16 to 96 with a max. length of 9.00".

Our grinding capabilities are both cylindrical and centerless with size range on the cylindrical from .186" to .750" diameter and the centerless capacity is from .250" to .750" diameter.

If you have any future requirements that would fit into these size capabilities, we would be pleased to quote your needs.